Bhikkhu Khieu Chum, A Prominent Cambodian Buddhist Monk, and An Active Figure in Internal Politics​
---
---
Bhikkhu Khieu Chum was a unique monk, who was well-known as a public speaker, critical thinker, and revolutionist.
He was also known as a prominent Cambodian Buddhist monk and an activist who was responsible for planning the Cambodia coup 1970, the removal of Cambodian Chief of State, Prince Norodom Sihanouk, and placed General Lon Nol as a leader of a new Khmer Republic.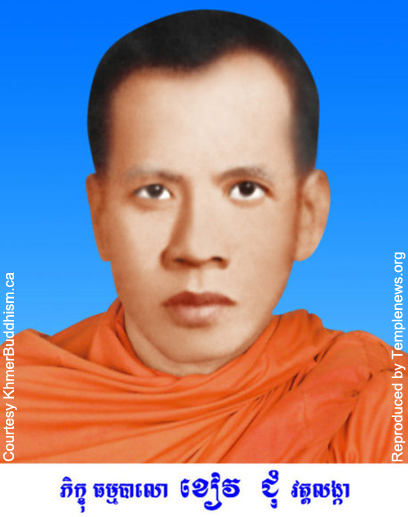 The photo of Bhikkhu Khieu Chum by Templenews.org
Venerable Khieu Chum was born in 1907 in S'ang District, Kandal Province. At the age of 12, his parents sent him to study at a pagoda. He then officially became a monk in Wat Langka pagoda in 1928.
In the 1940s, he joined the revolutionary movement with Achar Hem Chieu, a Buddhist monk, and a prominent figure in developing Cambodian nationalism, to liberate Cambodia from the French Colonization. Regarding his revolutionary actions, many other monks did not support him and there were people following and threatening him as well.
Later in the year, 1945, he evacuated to Thailand. While staying in Thailand, he wrote a few books and helped Son Ngoc Thanh, a Cambodian Nationalist, and republican politician, as the organizer of the resistance movement plan. He then returned to Cambodia in 1949.
Then in 1975, due to the changes in the political system, he was arrested and murdered for his rebellious actions in Kompong Chhnang province. Though he had been through a lot of pressures, it never stopped him, but strengthened him even more and that was how he was remembered.
Source: chanbokeo.com | By: Hon SreyNit