A Young Cambodian Researches Techniques on YouTube and Builds a Recycled Charcoal Manufacturing​
---
---
Environmental degradation is becoming a global issue and receiving attention from nations across the world. A talented Cambodian came up with an idea to produce charcoal from wastes in order to help the environment.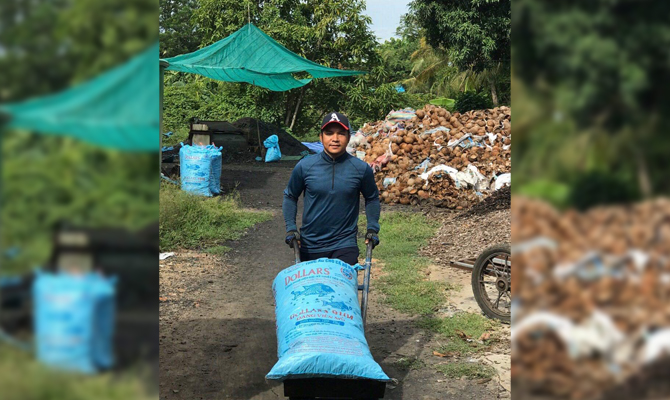 Mr. Koem Vutha is the owner of BF Charcoal manufacturing.
After doing a lot of research on Youtube, he was determined to find ways to transform trash into charcoal, which can be used as a replacement for natural charcoal.
Koem Vutha, the Owner of BF Charcoal Cambodia, a recycled charcoal manufacturing, spent a lot of time on YouTube doing research on ways to make charcoal. He watched videos, learned the methods, and put it into work. He kept on repeating until he was successfully able to find a method that allows him to make charcoal.
However, Mr. Vutha is not the only person that brought this small-scale charcoal manufacturing into existence. One of his friends, whom he has shared living in poverty with, also has a share. They started this manufacturing with the initial investment of about 8 million U.S dollars, used for manufacturing operations and further research such as machines and other essential equipment. After that, he continued to find ways to build on the capital as required.
As a founder of this charcoal manufacturing, Kong Vutha provided some initial insights about starting this business. He stated that "we have seen that there are a lot of natural resources in Cambodia and along with that are tons of waste that people keep throwing everywhere. Our goal is to help clean those wastes and trash because it is harmful to the environment. In addition, we also want to recycle wastes by turning it into something useful so that people don't just throw them away. This motivates us to start researching and collecting trash and wastes like coconut shells in the market and people's homes. We go from houses to houses to buy trash from them. The people can clean their places and earn some cash, while we take it and transform it into something else."
The primary purpose of establishing this charcoal manufacturing is to help clean the environment and reduce the use of natural charcoal. Natural charcoal produces detrimental impacts on the environment because one of the ways to obtain this is by clearing the forest. If this persists, the forest will be gone in the future, whether we want to or not. He further added that "there are high demand and a good market for charcoal. It is used in houses, restaurants, and small street food shops. To facilitate those businesses and reduce deforestation, we have decided to collect trash and start this business."
The charcoal they made is only distributed nationally. They are still studying the quality and market of this charcoal. They are hoping to export this internationally when they have the necessary capacity to produce on a large scale. They have given through on exporting it internationally, but they still have limited capital and capacity.
The factory is only doing wholesale since they have signed a contract with an exclusive customer, who will then distribute it throughout Phnom Penh, Preah Sihanouk, and Siem Reap Province.
BF manufacturing produces 2 tons each day and about 30 tons each month. The market price, as agreed upon by the owner and the contractor, is 1500 riels per kilogram. However, the contractor is not obligated to the price. In other words, they can sell to other buyers at this price or higher depending on their negotiation.
As for sale delivery, they can do 20-30 tons per trip from 2 weeks to a month according to customer requests.
Noted that, the current location of BF Charcoal Manufacturing is Ou Ang village, Omlaing commune, Thpong district, Kampong Speu province. This location is especially efficient for the factory because they can easily transport wastes from towns/cities and natural wastes such as leaves and sugar cane from a close-by sugarcane factory. They can also grow their own bamboo and use it to make charcoal rather than cutting forests.
By: Moeun Kimyan